12Volt 200Ah Front Access Best Telecom UPS Battery Backup Power Supply Made From VMCELLTECH manufacturers
Product Overview
Friendly to the environment:No Cadmium, Mercury effect, Lead
No memory effect
Small size,light Weight.
Low internal resistance
Long cycle life: >2000times(10 times of Lead Acid batteries)
Low self-discharge character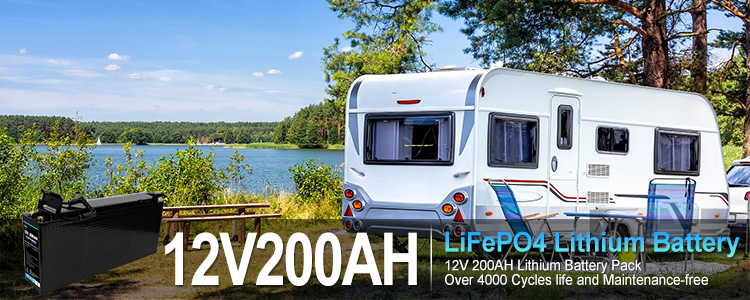 Product Parameter
Product Name

Deep cycle 2000 times rechargeable Lifepo4 12V 200AH Front Access Best Telecom UPS Battery Backup Power Supply

Electrical characteristics

Nominal voltage

12.8V

Nominal capacity

200AH

Energy

2560WH

Internal resistance

<30mΩ

Cycle life

2000 cycles/0.5C

Self discharge

<3% per month at 25℃

Standard charging

Max.charging voltage

15.2V

charging mode

At 0℃~45℃ temperature, charged to 15.2V at a constant current of 0.5C, and then,changed continuously with constant voltage of 15.2V until the current was not more than 0.02C

Recommend charging current

50A

Max. charging current

100A

Standard discharging

Recommend discharging current

50A

Max. continuous current

100A

Max.pulse current

200A(<3S)

Discharging cut-off voltage

9.6V

Operating condition

Charge temperature

0℃ to 45℃(32℉ to 113℉) @60±25% Relative Humidity

Discharge temperature

-20℃ to 60℃(-4℉ to 140℉) @60±25% Relative Humidity

Storage temparature

0℃ to 45℃(32℉ to 113℉) @60±25% Relative Humidity

Struture

Casing

Plastic

Dimension(L*W*H)

L560*W125*H319mm

Weight

Approx.21KG

Application

*Telecommunications
*UPS

*Server rooms

*Renewable
*solar energy storage
*Emergency power supply
Product features
Bluetooth function
Open the following app "VMCELLTECH bluetooth" or "VMCELLTECH" you can find the app in the app store or on www.vmcelltech.com in the download area.
Waterproof ip67 abs case
Precision plastic abs shell, waterproof design, effectively ensure the safe use of the battery pack in harsh and humid environments such as fishing boats and ships.
Internal structure design
The industry's first structural design of precision stainless steel fasteners inside the battery box, which is fixed, sealed, and tightened by screws, which is convenient for disassembly and maintenance; effectively protects the heavy cells and the precise bms circuit board from shaking, and the battery box and the internal cells and bms motherboard. Tightly connected and integrated, it is not affected by the vibration of shipping and freight transportation, and in the later use, along with ships and electric fishing boats, the long-term movement of the rv will not affect the structural loosening and performance.
Bms(battery management system)
VMCELLTECH battery with top notch brand of bms to protect, it has low temperature cut off protection, it means that when people charge the battery below 0°c, the bms will automatically cut off and stop charging. Bt connect smartphone and monitor battery at any time all parameters and indicators operate safely.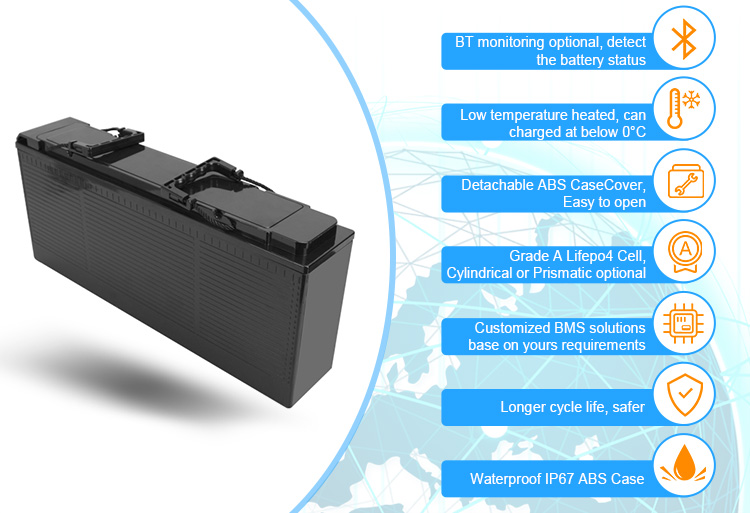 Battery characteristic curve
With a 100 amp continuous current, 200 amp surge current (30 seconds), and ½ second surge for higher loads.
VMCELLTECH lithium batteries provide more energy for high consumption than traditional lead-acid batteries. They also offer ultra-fast charging and discharging, high efficiency, and longer cycle life – plus no maintenance!
Approximately 75-80% of the battery capacity will remain after 3000 cycles in applications recharging at 0.5c or lower. We have seen life spans well over 5000 cycles in our lab testing.